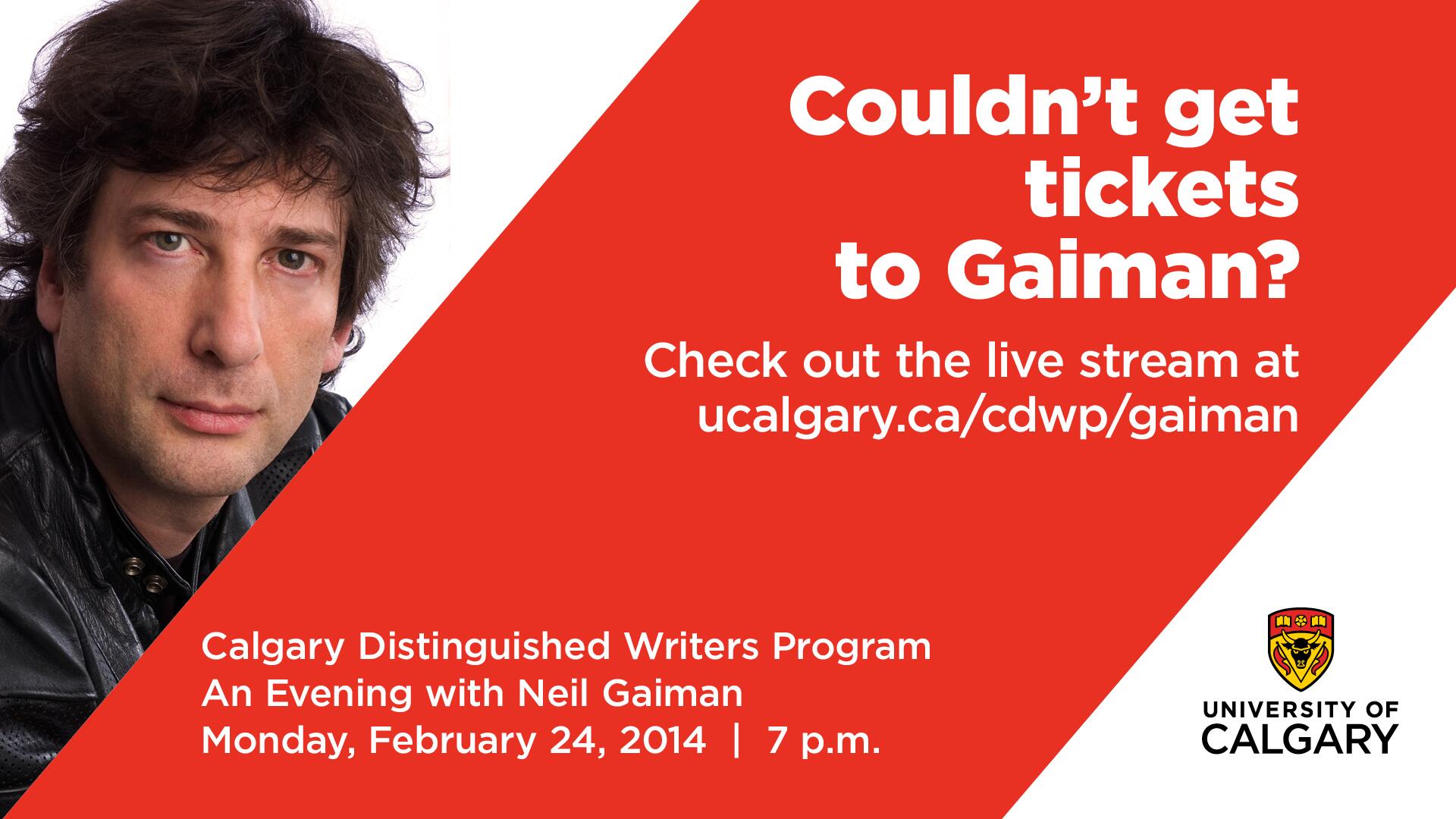 Very quick blog...
Billings, Montana was WONDERFUL: I talked to a bunch of young people in the wonderful new library, read a little and answered many questions. I talked to people that night in the Babcock theatre, read a lot and answered fewer questions than I would have liked.
I was impressed by the future: I landed in Montana to discover that mysteriously my iPad had become a spiderweb of glass cracks, and not something I wanted to read from (or swipe my finger over). Leslie, my host, took me to Best Buy, where I got a new iPad and an army-tough case. I got back to the hotel, told the new iPad who I was, it immediately restored itself from the old one's last cloud backup, and a few minutes later I was doing a reading in the library, from a brand new iPad, without any work, sweating, cables or grumbles. Oh, I like the future sometimes.
Today, I'm in Calgary. The event tonight sold out minutes after it went onsale, but they will be livestreaming it:
http://ucalgary.ca/cdwp/gaiman
is the website, and it starts at 7:00pm Mountain Time.
Now I really need to decide what I'm going to do tonight. (Probably read.)
...
Yesterday I went through many notebooks and boxes and papers, looking for poems, for a project that I'll talk about when it's ready. I read stuff I wrote as a teenager, stuff I wrote while I was meant to be writing other things, found some forgotten treasures (none of them written when I was sixteen, I'm afraid: sorry, sixteen-year-old Me) and some unfinished things that actually looked like I ought to finish them.
And then, in a small tub from the attic, on three folded up Byerly's cafe place mats I found this, a doggerel thing vaguely inspired by Robert W. Service or Kipling's ballads or somebody else. And I don't remember what was going to happen next, or what it was for, so I am simply putting it up here, on my blog, to make you smile. And because it doesn't have a title I'll call it...
Found on a placemat in the attic
It's kind of dead at Davey's when the clock hits three a.m.
And I know I didn't come here for the food
For I'm sipping something coffee-like that tastes a bit like phlegm
While I pick at cake that something might have chewed.
There's a bill upon the table for my unappealing fare
And a bored cashier is waiting by the till.
Then she takes my twenty dollars with a cool intriguing stare
like a kidney-surgeon waiting for the kill.
"

You seem like much too nice a girl to work in such a dive.
It's the sort of place that turns your brain to rot."
She just smiles and in a sullen voice more poisoned than alive
She tells a tale that turns my spine to snot.
"

I have a fearful tale to tell, a bloody tragic lay,
A narrative of horror and of fear.
A story that will make you weep and turn your guts to clay,
before your braincells dribble out your ear.
"

Mine is a dark biography, a thing of dread and fright,
A tale that reeks of terror and of woe.
There are not words," she told me, "to do justice to my plight.
But what the hell," she said, "I'll have a go.
"

Nobody could envision it, it's nasty weird and strange.
Nobody could have dreamed, or said, or thunk.
And none who sit to hear my life will stand again unchanged.
(Some kill themselves, while others just get drunk.)
"

I warn you now!" she raised her hand, "if you are faint of heart,
Leave now! Just flee! Get out! Go 'way! And shoo!
It's horrible and sordid. Stop me now, before I start,
for every loathsome word of it is true!"
(I honestly no longer remember what her story was, although elsewhere on the placemat is the couplet:
I can't get into Heaven, 'cos of all that I've done wrong
And I can't get into Hell because the lines are far too long.
Which may be a clue.)
Labels: Billings, Bits of it made me smile, Calgary, Not really poetry, poetry