I met Sara Benincasa eight years ago, when
she interviewed me in a bathtub
. (I was in the bathtub. Sara wasn't even wet.)
She's an author and comedian and the sort of person who has strange ideas and acts upon them. So when she tweeted me the other night and asked me if I would read the Cheesecake Factory Menu live, if she raised half a million dollars for the charity, I did not ask any of the obvious questions (like, why would I read the Cheesecake Factory Menu aloud? or Who would want to hear this? or even How would you ever make that much money for something so unlikely?). Instead I said I'd like the money to go to Refugees, please, and sure. ( And I added, "If you get to a million dollars, I'll also read the entirety of Fox in Socks after the Cheesecake Factory menu.")
It's been up a couple of days since then, and we are (as I type this) 8% of the way to the target at over $42,000. It's started to be picked up by newspapers -- here's
the LA Times,
and
the Boston Globe
, and even
the Guardian
.
And I will do my own bit for it. I will put up something unique to this blog.
Probably you are thinking, will he write about his time on the Red Carpet at Cannes for HOW TO TALK TO GIRLS AT PARTIES?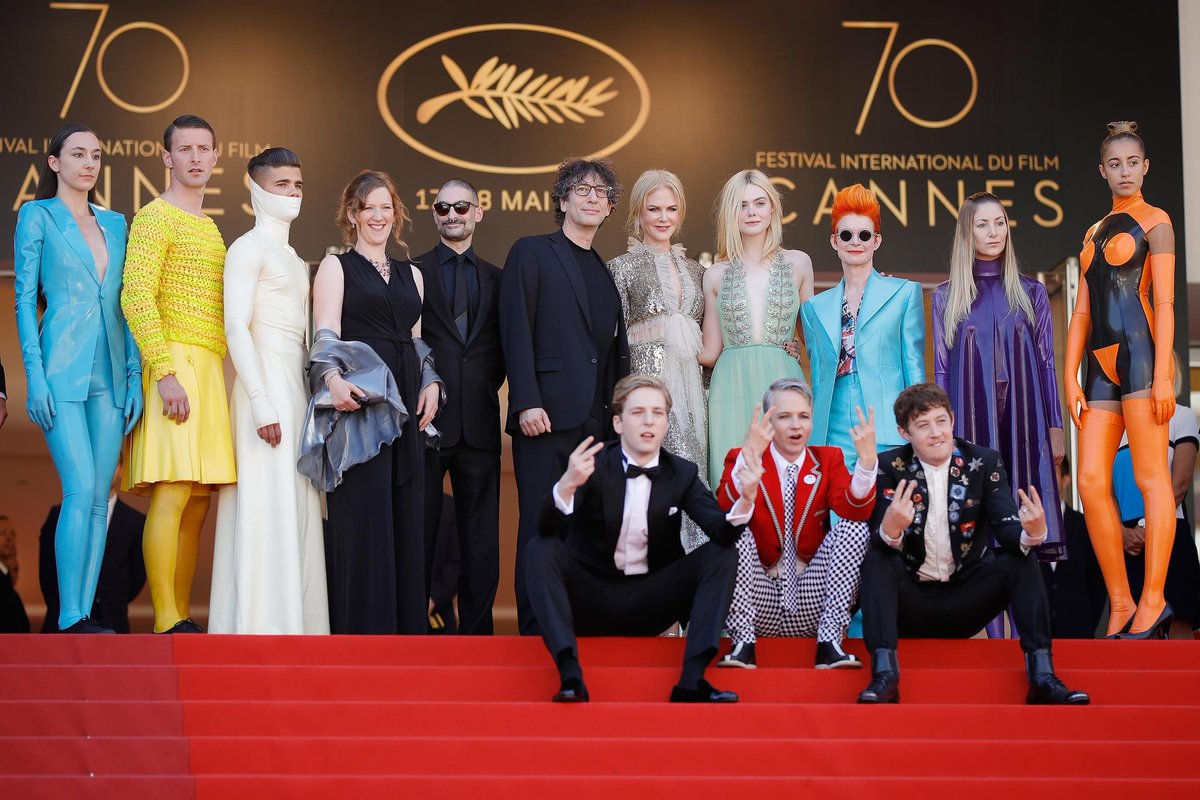 It is not that. (But here are costume designer Sandy Powell, channeling Ziggy Stardust, and star Elle Fanning eating colour-coordinated macaroons.)
Perhaps you are thinking, Will he perhaps post photographs of Gillian Anderson as Media in the next episode of American Gods incarnated as Ziggy Stardust also eating colour-coordinated macaroons?
I will not. I do not believe such photos exist.
Instead I will put up photos of my elf-child, Ash. I will see him on Saturday, and the Cannes red carpet would have been much more fun if he had been on it.


...

Whether or not I get to read the Cheesecake Factory Menu in public (or Dr Seuss's tonguetwisting Fox in Socks) I will be doing a few more readings and talks this year. Tickets are going fast:


Each of these should be links to the event -- all of them are solo me just reading and talking and answering your questions, except for
the Hartford one,
where I'll be interviewed by the NYPL's very own Paul Holdengraber.
Labels: baby photo, bowie, Cannes, How to talk to girls at parties, macaroons, Refugees, Sara Benincasa, the Cheesecake Factory, Ziggy stardust